All of us want our kitchen to be productive and efficient to its best. Especially in case of small houses it is essential that you make the best use of each and every corner of the house including your under sink area. Although it is the most underestimated place in terms of storage and decoration, it can be highly useful if organized properly. Here are eight superb steps for the same. Read on to know more.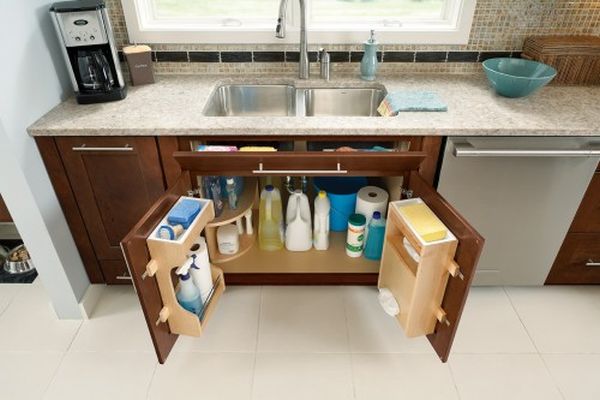 Hanging hooks and baskets can be used to keep a number of objects like scrubbing brushes and cleaning bottles. Thus, it is an excellent way to hideaway your kitchen mess and keeping harmful chemicals away from your food.
Lazy Susans, generally used for keeping sice racks and pantry items, can be used effectively to keep cleaning bottles and other stuff.
You can organize various items of daily need properly by keeping them in line baskets under the sink. These are highly space efficient and are attractive, plus you can store all necessary things at one place, thus saving time in finding them when required.
You must install shelves beneath large size sinks to store articles like clean kitchen towels, sponges, extra paper towels and so on. This make the under sink area organized and well managed.
Pullout shelves are the best storage remedies, especially for smaller houses. You can choose from many options, such as silverware drawer to store silver utensils, or you can use them to store items like cleaning bottles, napkins, dishwashing liquid and sponges, paper towels and even cleaning chemicals. However, you have to be careful about the under sink area while installing these drawers.
The area under the kitchen and bathroom sinks can be decorated to match the interiors. You can use colorful wallpaper prints or non-stick prints for this purpose, as you can clean them easily by just a wet towel wipe. Some kitchen lovers might even paint this area although it takes extra efforts. Colors such, as bright yellow and blue, go great with a white bathroom.
Acrylic jars that you usually throw away can also be used as a storage item for sponges, towels and cleaning supplies, including grease. They can also be used to keep tiny objects like pins and razors.
You can also place trashcans effectively under the sinks to keep the waste and foul smell away from the visitors.
Summary:
These are professional tips to have a well organized and yet attractive under sink area, which reduces your mess and saves your precious time in finding things.