Undermount sinks are sinks installed below the countertop surfaces usually made of stone, concrete or other solid materials. It yields a contemporary and sophisticated look for your modern kitchens and are held in place with metal holders that are glued to the underside of the stone.Furthermore, silicone fasteners are used for a assured waterproof joint between the sink and the countertop material. Although a bit more expensive than the usual sinks, undermount or bottom-mount sinks beautifully compliment the kitchen wash area through seamless cleaning with hidden drain and disposer fittings. The sinks come in various types, dimensions and styles. The most desired and stylish of them are:
1. Franke ORX-110 Orca undermount one bowl kitchen sink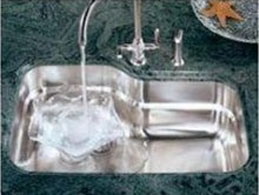 This classic sparkling stainless steel undermount sink is heat-resistant, hygienic, rust proof and easy to maintain. Priced at $558, it comes with great aesthetics, fine craftsmanship and integrates well to your modern arrangements. It comes in dimensions 31 x 20-3/4 x 9-1/4 inches and is highlighted with a unique Franke accessory shelf.
2. Villeroy and Boch cisterna 45 ceramic undermount kitchen sink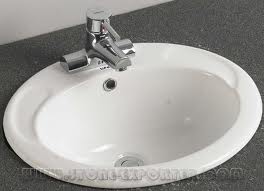 Moving away from traditional steel kitchen sinks, the beauty of ceramic have also been combined with popular undermount kitchen sink design brings forth a complete and sizable sink bowl that is practical, functional and beautiful. The glazed coating and the clear forms of the Villeroy and Boch cisterna 45 ceramic undermount kitchen sink adds a touch of class and comes to your kitchen surroundings.
3. Blanco 440184 Blanco-diamond double bowl kitchen sink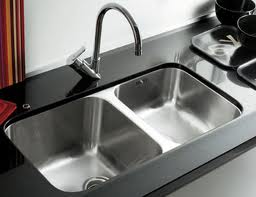 The options of time-constrained urban life are further enhanced by this Blanco double bowl undermount kitchen sink. It is made of 80 percent granite composite known as silgranit, a patented material by Blanco. It allows to multi-task and provides versatility with its spacious insides made more convenient with slim bowl divider. . It is scratch resistant, non-porous, chip resistant and is guaranteed with heat resistance up to 536° F. It comes in a wide range of colors that well match and complement your kitchen.
4. Franke UK UKX 612 stainless steel single bowl double drainer undermount sink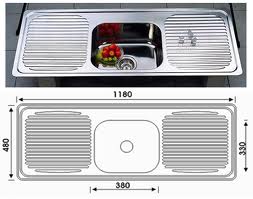 Easing drying options a little bit further is the double drain single bowl undermount kitchen sink by Franke. It comes with a plug and chain feature and comes in a variety of size to suit your requirements.The steel sinks allow a meticulous flow out of drained water from both sides of the bowl making a clean and sophisticated wash space. Multitasking while washing vessels and cleaning vegetables, these sinks also allow for two or more people to work simultaneously in the kitchen area.
5. Elkay's double bowl, single drain ELUH272010R (lusterstone)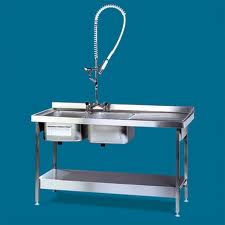 The Elkay ELUH272010R Harmony (Lustertone) undermount deep double bowl sink comes with excellent service condition and contours. With seamless washing tops in kitchens, these undermount kitchen sinks can be easily blended to all kitchen area with all the benefits of double bowl and no fuss about extra drainage fittings. They are priced at $444 and comes with hand polished satin finish. The sink comes with 'sound guard' coating that reduces sound and condensation.