If you are thinking of a makeover for your kitchen, you can do it in a jiffy with the ready to assemble kitchen cabinet. Kitchen cabinets are like what makeup can do to a woman's face. They can change the way your kitchen looks more than painting it, or dressing it up in other ways. They combine convenience and functionality too. The options are many from hickory, maple, cherry and oak. But oak stands for strength, quality and durability. Many people are turning to oak because it can withstand steam, water and is tough enough to withstand daily use.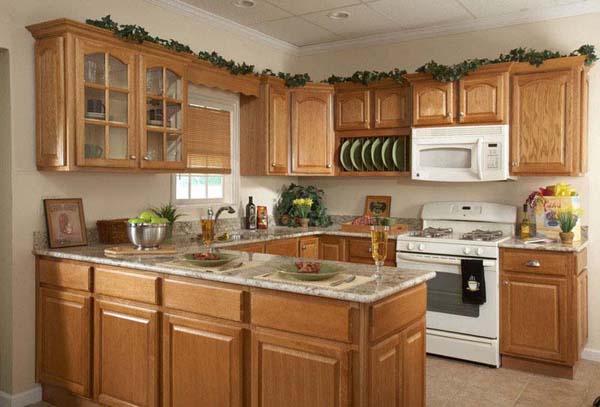 Oak cabinets can be used for any style- traditional or contemporary. If you focus on the right hardware, oak kitchen cabinets can suit any style to match your decor. Though oaks are a shade of yellow, you can choose other shades that are tinges of red, yellow or orange, unless it is stained. If you want the kitchen to look sunny and cheery, go for a lighter shade. Darker shades are beautiful to give it a picture of warmth. The natural brightness of the kitchen can decide that. You can then choose the finishes which are Natural, Medium and Frost or add a natural glaze. Be sure to paint the walls after you choose the kitchen cabinet. The color of oak compliments any color without becoming an eyesore!
If you want a traditional look, you can choose the framed style. The frame stands out around the doors and drawers. Of course, this reduces the storage space, but just a wee bit. You can choose the full access type which promises maximum storage area with bigger drawers and shelves that roll out. The hinges are hidden so well, that the doors look sleek and neat without ugly metal hinges sticking out. Choose the hardware with care. If the cabinet is the traditional type, choose from nickel, brass or pewter with a brushed finish. Iron, old bronze or hi-gloss metal suits modern designs. Pulls, knobs and hinges enhance the looks of wooden cabinets, especially oak. Choose a type that is easy to remove so that cleaning and maintaining is thorough. Household cleaners could damage the oak, so it is advisable to go for easily removable hardware.
Kitchen cabinets are great time savers. Architects design it in such a way that there is a place for everything and every thing is in its place. Tidying is no longer a chore with such good designs. These days the concept of a kitchen is changing and architects bring out designs that are not only impressive but also conducive for a family to meet and chat together for lunch or dinner. Kitchens are no longer just a huge factory of the house churning out food. Architects also design it in such a way that a person spends minimum time to tidy it.. Oak maybe slightly more expensive than other woods but it lasts long and adds value to your house.