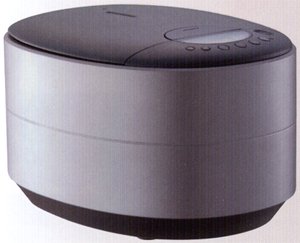 The all-new rice cooker by Zojirushi has an advanced neuro fuzzy logic that does not require your monitoring always. This rice cooker has in-built temperature regulating system that adjusts the heat according to the cooking requirement.
The design of the pan is spherical for even heat distribution and accomodating more rice. To add more to this self-cooking cooker are diferent settings for sushi rice, porridge and mixed rice, LCD display and timer functions.
This rice cooker has non-stick surface, which also keeps the food warm for hours. The inner surface is detachable for easy cleaning and storage. This rice cooker is just perfect for any occassion and for any rice-based dish. This rice cooker is available in the online retail store of Golda's kitchen for $320.