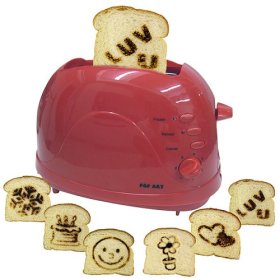 I really wonder where the technology is leading. Just imagine you are having a toast at breakfast with some message or design carved on it. How would you feel? I will feel as if I am having a paper for breakfast.
However, this Pop Art Toaster helps you to design your toasts with six different plates. You can impress your girlfriend on breakfast by preparing toasts, which has a message: 'LUV U,' double hearts, flower, smiley face or even occasional like snowflakes and cake.
Other features of it are that it has twelve toasting levels, reheat and frozen, and a slide-out crumb tray.
It is also a change from those conventional toasts. Even I like it now.