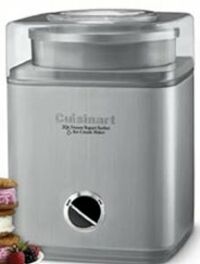 The three-in-one ice cream, yogurt and sorbet maker makes upto three quarts of anyone of your frozen desserts in not more than 25 minutes. Cuisinart presents the ultimate experience with an double-insulated freezer bowl, and automatic mixing paddle do all the work.
The ice cream maker gives you the convenience of adding all the ingredients and turning the unit on. Apart from that the glass lid lets you see the freezing process allowing you to add the fruits from the large spout.
You do not have to interrupt the machine while introducing the add-ons into the vessel. The freezer bowl can be cleaned up easily and the stainless steel body gives it a scratch free performance on storage.
You can get this product at the online retail store of Golda's Kitchen for $100. So go for it and surprise everyone by serving them ice cream freshly prepared on the table.