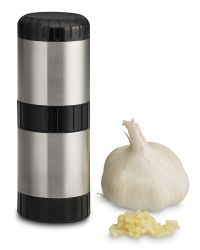 Mincing garlic requires yout to mess-up your fingers. But the cylindrical tool above at Williams-Sonoma, made of stainless steel, can crush the garlic without you having to resort to traditional mortar and pestle.
You just have to put the peeled garlic cloves into jar and twist the top of the Garlic Genius. The Garlic genius grounds them into tiny pieces thereby disharging less juice out of garlic and making the grounding odorfree.
The texture of garlic form this mincer makes it apt to be added on the tabletop or in condiments. The mincer also dissembles for cleaning and accomodates storage.
The Garlic Genius costs $39 and is available at the online retail store of Williams-Sonoma. Now say no to the heavy duty pestle and mortar and avail the benefits of a pepper mill in a garlic mincer.