Summer is a special time for mango lovers. Raw mangoes give a tangy flavor when added to any food. Maavinakaaayi Chitranna is what Kannadigas call Mango Rice and also means the same when translated literally. This is my favorite among all the mango recipes. Try this yummy mouth-watering treat and I promise that you'll end up polishing it off to the last grain and ask for more!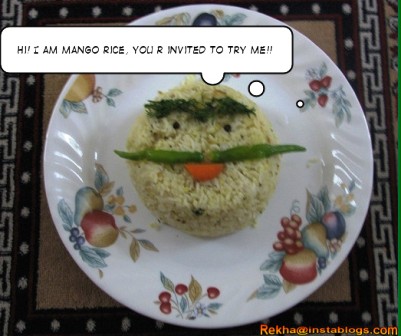 You'll need:
2-3 cups of cooked rice
1 cup fresh grated coconut ( optional but preffered!)
1/2 cup grated raw green mango
3-4 tbsp oil
10 green chillies
2-3 red chillies
Handful of roasted peanuts
3 spoons urad dal
1/2 tsp turmeric
2 strings of curry leaves
¼ tsp Asafoetida
1/2 tsp mustard
Here's how you do it:
1. Heat oil in a heavy bottomed pan.
2. Add mustard and when it pops, add urad dal, roasted peanuts, curry leaves, green chillies, red chillies, turmeric, hing and stir for about 2-3 minutes.
3. Now, add the grated coconut and stir for a minute.
4. Switch off the flame and now add grated raw mango and mix it well. Add salt to taste.
5. Spread the cooked rice on a plated to cool. Mix the above prepared mixture to the rice.
6.Garnish with coriander. ( You could add roasted cashew nuts to make it richer!)
Simply Enjoy :p!