The best thing about a U shape kitchen is that you can design it in the most effective manner by using all the space that you have. With the right kind of planning, choosing furniture that blends in, and using the layout well, your kitchen can be spacious as well as multifunctional.  Although the basic layout for your kitchen will be the standard U shape, you can make it look unique and different to suite your style.  For your next home renovation project, you can bring in a new look to your kitchen with these kitchen ideas.
The elegant castle cove look
Since you have a U shaped kitchen, you can arrange your appliances on one side and make a dining area on the other corner of the U. The center portion can be with the sink and cooking range. You can also have a special space for your oven and cook top on the sides or center to suit your needs.  For this idea, you can place your kitchen layout from one wall to another.
The Island U kitchen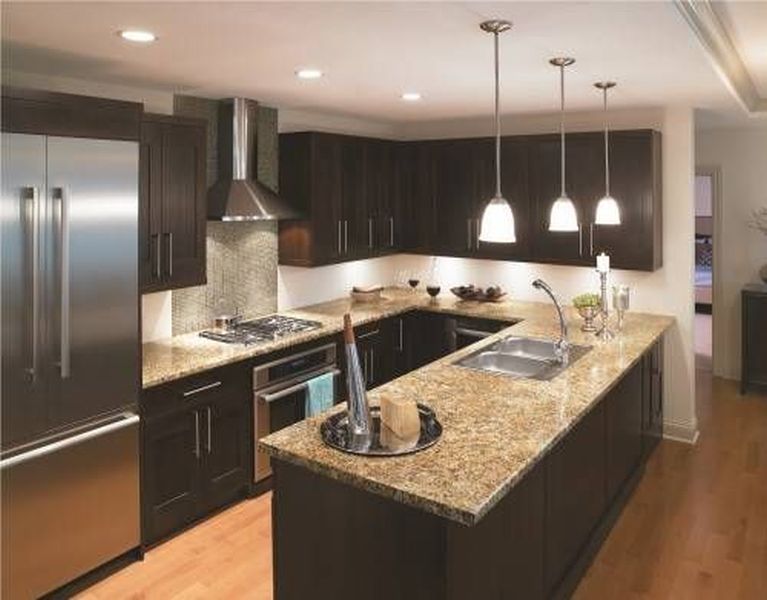 Instead of opting for the walls, you can place consider having a U shaped Island with a chimney for your cook top. On one end, you can have dining tables that face the long windows for a perfect view and on the other side; you can use the wall to make a nice in wall shelve and a space for your fridge. Add in some good lighting fixtures and you are good to go.
Black wooden cabinets with black and white counter tops and brown flooring
Black colored furnishing give out a special look and feel. It also makes the space look full. If you have a big sized kitchen, choosing black furniture would be a good choice. This color will tone down the huge size of your kitchen. For your oven, microwave and fridge, you can have a special cabinet done to fit them all well inside. The counter tops for the kitchen can be of a neutral color like a light brown or dual tone shade. If you do decide to have a kitchen island, place that in the center of the U so that you can walk comfortable from either sides of the island. For the lighting fixtures, choose nice and bright colored lights, which give your kitchen a nice look even at night.
Backsplash with a U layout and a rug in the center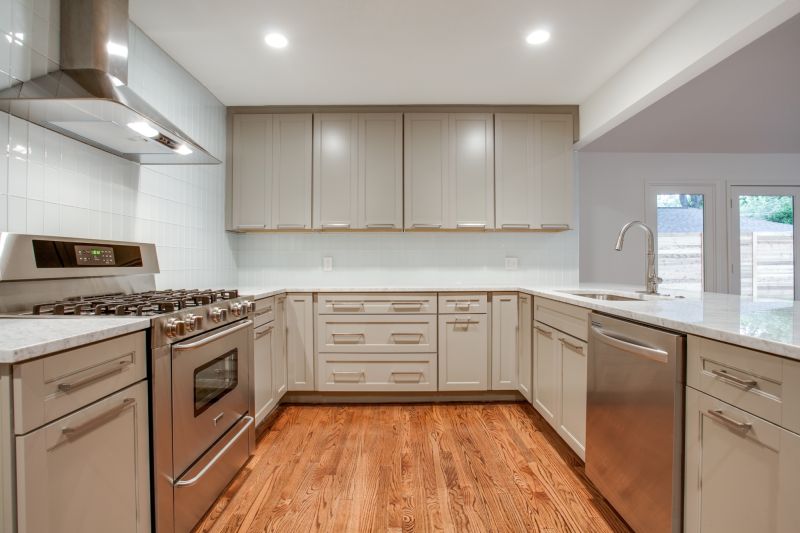 In this element or concept, your kitchen can have a nice backsplash on the center portion of the U while you have long cabinets on the sides. In the center of the kitchen floor, you can also go ahead and put in a nice oriental carpet or rug that will give your kitchen a perfect finish. Just make sure that the carpet is not very big otherwise, it can end up getting very dirty.
Wall to ground U shape kitchen
To get the maximum storage space benefits with your kitchen, you can choose to have cabinets that touch the ceiling from floor level. On one side, you can store all your groceries and have a pantry while on the other side you can keep your dinner sets and appliances. For the center part, have a nice chimney and full-length cook top. The lighting fixtures can be the ones that fit right into the ceiling level so that they do not spoil the show of your kitchen. Even the space that is between the counters can have some lighting fixtures so that you can leave it on at night.