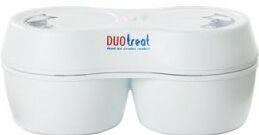 What about a dual flavored ice cream maker that would save your time and add lots of zing to your creativity. A Dual Treat Ice Cream Maker by Duo Treat helps you to add extra flavors through the sliding top windows.
You just have to switch on one-button activation and push the ice cream maker into the refrigerator and the ice cream maker does it all.
This ice cream maker is dishwasher safe and is available at the online retail store of Amazon for $20.