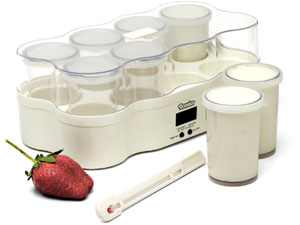 Yummy frozen yogurts have become one of the most trendy, health foods in the US and UK. While purchasing gourmet or flavored yogurts can be expensive making it at home can be reasonable and healthier.
If you are wondering how then Donvier presents you an Electric Yogurt
Maker that makes 48 ounces of yogurt in a jiffy. You just have to lukewarm milk and add yogurt cultures or a tablespoon of yogurt into the milk and pour it into the unbreakable, polycarbonate plastic jars.
The timer settings from 4 to 14 hours gives you the option of setting desired time for desired creaminess. You can get this product at the online retail store of Cooking for $40.