We have read and discussed quite a lot on how important a kitchen is to a house hold and why an impressive kitchen is important in today's lifestyle. However, not much has been said about the dining area of the house. But come to think of it, it is probably the most important area to be decked up in the house. In some households, families bond more over the dining table than the living room. With open kitchens being a trend these days, dining areas are usually fit into an extended kitchen area.
Having a dining area in the kitchen itself, is a nice and convenient idea. An open plan kitchen dining makes serving food much easier. Cleaning later also is convenient in this  kind of a kitchen format. However, a lot of brainstorming needs to be done in this kind of a kitchen layout. There are a lot of things which have to be taken into consideration when such a dining area is being planned.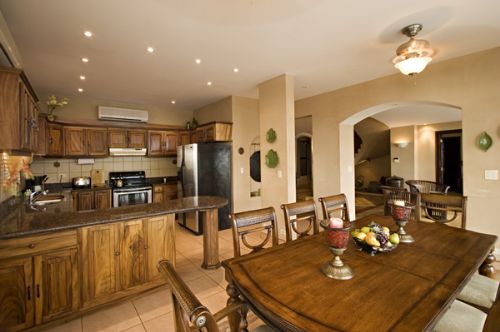 First and foremost, there has to be a proper ventilation system in the kitchen area. A proper exhaust system, a minimum noise chimney is a must have in this plan of dining spaces. It can be displeasure to have food in a suffocated, heated environment with food odor in the air.
Since the kitchen area is open, everything has to be beautifully concealed. More importantly, the sink area has to be in a place which is not clearly visible. Nobody, after all likes to put up dirty utensils on display in full view, when entertaining people or eating them selves. It can spoil the whole dining experience.
The place should not look cluttered. This is an area where the family starts a fresh new day and also unwinds and relaxes together over good food at the end of the day. The place needs to be planned in a manner such that it looks uncluttered, comforting and inviting.
The color scheme of the kitchen and the dining has to be very carefully co-ordinated. It is a tricky situation where in, both the areas are separate and one both at the same time.
Keeping the above factors in mind, one can always have a Kitchen Dining space. The options are endless. Depending on the kind of space, you can have a country style setting, or a very modern and contemporary theme where minimalism is the key. One can opt for a fusion of traditional and contemporary. The choice is endless.