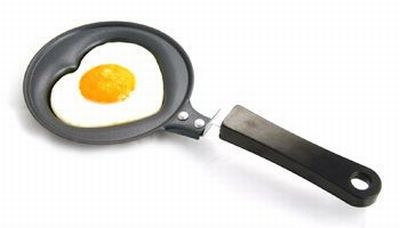 Heart shaped breakfast for your hubby. Frying pan shaped into a heart just goes with romantic environment will please your darlings. Often herd 'way to your lovers heart is through his stomach' is somewhat right.
Specifications
-12cm non stick frying pan with steel grey body
-Can be used on all gas hobs (do not use it in oven or microwave)
-Clean it with mild detergent and use hot water to do so
-Do not use a scouring pad else all non-stick material will get scrapped off
-This can be gifted to your darlings and you can enjoy your Valentine breakfast with heart shaped recipes (pancakes and omelets).
So what are you waiting for order one for yourself today!
Via: BlogWired