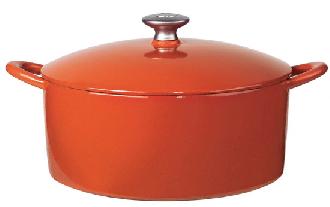 One essential gadget in the kitchen is the cookware range. Mario Batali's excellent and the new range of cookware and accessories is sure to create a furry in the market.
The stylish Italian essentials cast iron pot can manage a huge number of tasks. The heat is uniformly circulated by the cast iron construction. The pot further has a cast stainless lid knob. In order to help you in the usage of the pot a 16 page recipe book comes along with the package. It iron pot is available in two different colors: espresso brown and sexy orange. You can take your own pick.
Hurry! Get this robust and sleek pot right now.
More at: