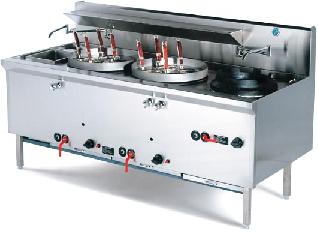 Rice cooker is one of the most common cooking gadgets in every kitchen. Hong Kong Style Noodle Cooker is one of the technologically strong inventions of the B & S team members.
Keeping in mind the necessary requirements in the Asian Kitchens they have developed this robust cooker which itself is strong and durable enough to carry on the loads for a long period. This huge unit is backed up by an A 32-jet, 140 MJ burner. For the smooth maintenance of the heat in the chamber in a uniform manner, it houses a ceramic lined heating chamber which circulates the required heat to the stainless steel water pot.
Indeed a great invention to help the lady in house.
More at: