A better storage makes a kitchen look more organized and welcoming. An ideal storage can even make a cramped up kitchen appear so clean and shiny. Here we have brought some clever kitchen storage ideas that can enable you to make your small kitchen as organized as the large sized kitchens are.
Exploit areas that aren't within arm's reach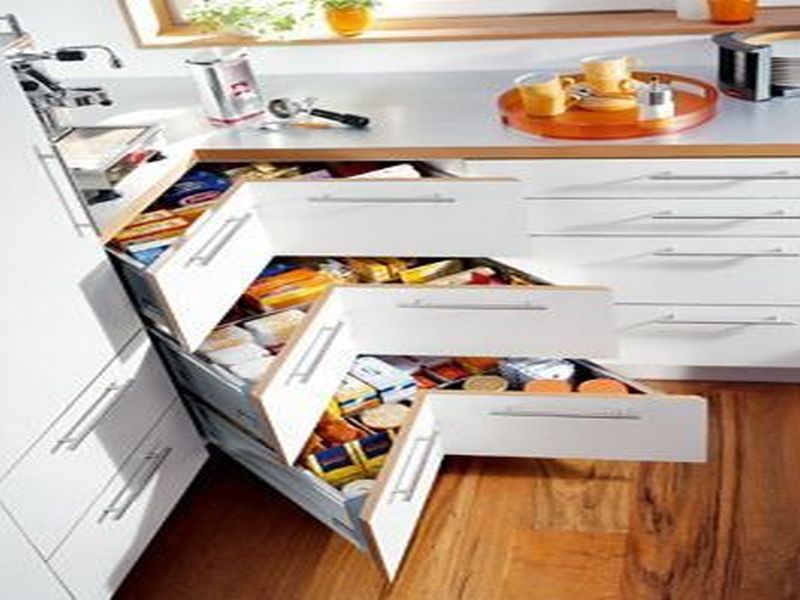 Usually, we tend to leave the uppermost kitchen cabinets empty for they are the areas that aren't within arm's reach. Such areas can serve as clever kitchen storage spaces if you decide not to leave them empty. You can have a sliding ladder in your kitchen to reach the ceiling height cabinets for storing things that you don't use often.
Open shelves
If closed cabinet is not an ideal option for your small kitchen, you can consider open shelves. They offer a good storage space without interfering with the lack of space in kitchen. While using open shelves for storing things in your kitchen, you should make sure that you don't end up making those shelves messy. Do not over fill the shelves and with things that are not good to look at.
Make the most of the existing kitchen storage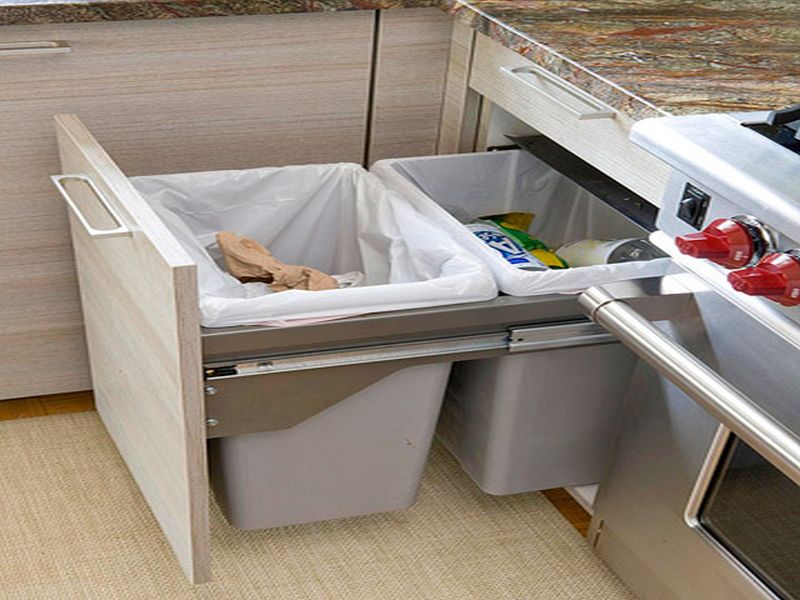 If you feel the existing storage capacity of your kitchen fails to fulfill your requirements, you can improve the existing space. By hanging dowel rods to the cabinets and adding extra shelves, you can increase your kitchen's storage capacity without spending much.
Incorporate an étagère
By placing an étagère on a slab, you can end up adding a clever storage to your kitchen. You can use it to hold books, bowls, and any other thing you like. It is a way you can rely on for added height in your kitchen.
A pullout pantry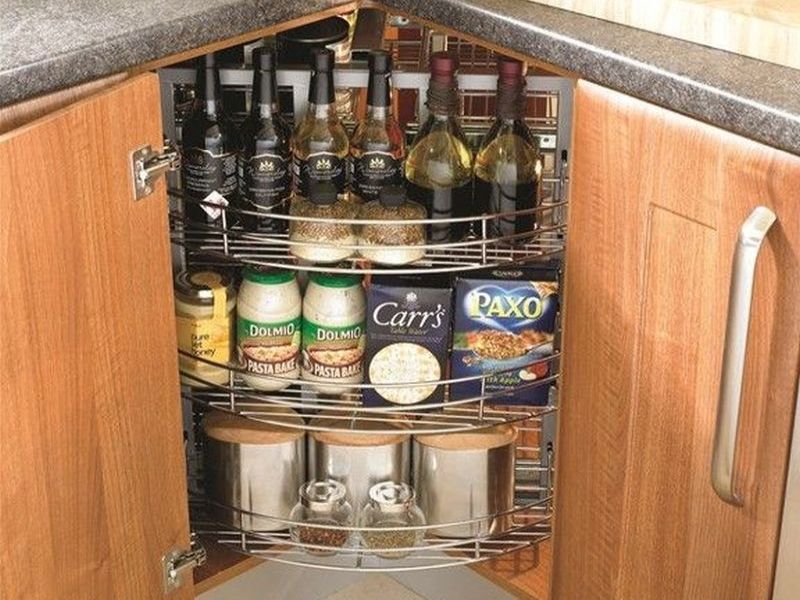 One of the most clever kitchen storage ideas is to install a pullout kitchen pantry. To make storage easy and efficient, have a pullout pantry that slides out over the countertop.
Clear food storage
Clear food storage is a great idea for every kitchen, particularly for small kitchens. In small kitchens, cabinets usually are over filled and picking required item from the many becomes difficult. On the other hand, if you store food items in clear jars with the item name written on it, you can quickly find out and pick the item that you want.
Consider a crockery drawer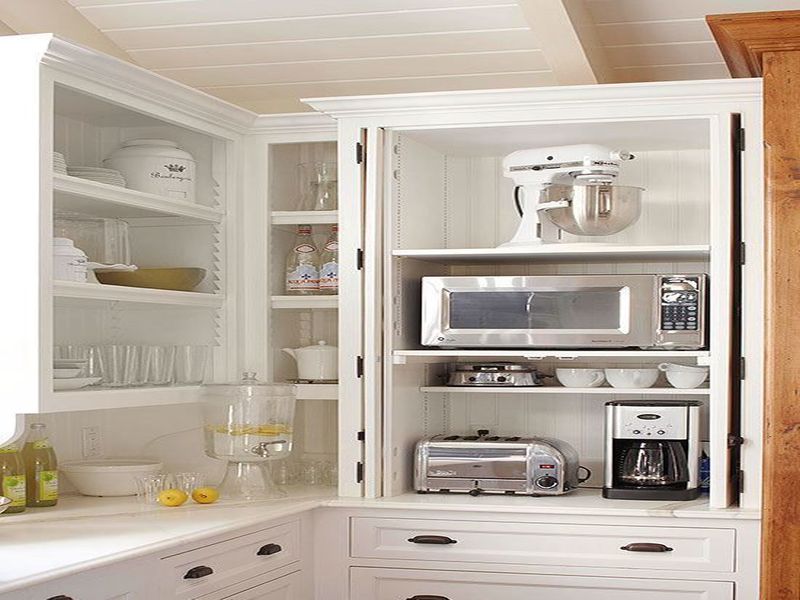 Besides food items, crockery is something that you use the most in kitchen. Therefore, taking them out and putting them back in the upper cabinets can be a real pain. You should plan crockery storage in kitchen that is convenient, just like a crockery drawer. You can install crockery drawers outfitted with movable pegs that can accommodate dishes of various sizes.
Super Cabinets
A super cabinet is an all-in-one cabinet that can be a great storage solution for your small kitchen. Packed with drawers and racks, the super cabinet allows you to store a number of pantry items conveniently at one place. The cabinet takes less space and offers greater storage capacity than other normal cabinets.
Hanging basket storage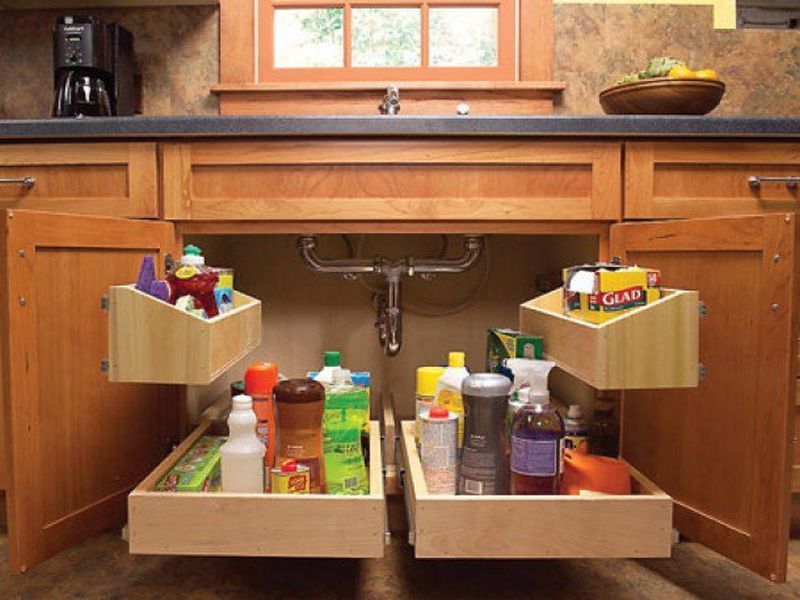 To save cabinet space and the floor space in your kitchen, you can have some hanging baskets. Attach them with a couple of screws to the wall and use them to store potatoes, garlic, onion, and other things. You can also create more hanging space in kitchen by hanging towel rails and curtain rods.
Summary
To make the most of your small kitchen, you should know a few space saving tricks and clever kitchen storage ideas.