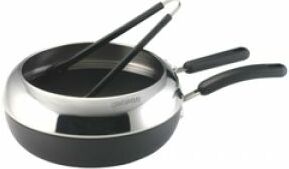 The most irritating thing while stir-frying is burning foods or splattering the oil spots around. The Circulon 3 Piece Splatter Free Frying Set is designed to save your hands and kitchen walls from splatter by the help of a Circulon 10″ lid that fits at the rim of your pan to prevent the oil to splash out of your dish.
The surface is made of advanced non-stick technology and it claims to provide uniform heating with the help of an unique Hi-Low wave technology. This non-stick oven can stand heat upto 350°F. Now you can have uniformly browned fish fillet
This oven is available in the online retail store of Pans for $50.