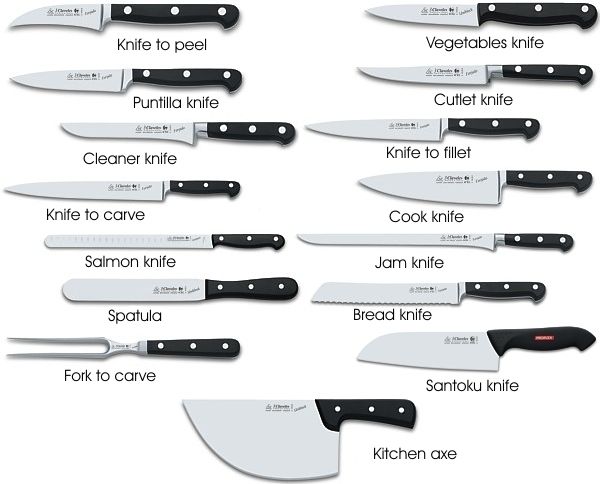 One of the most important things that you need in your kitchen while cooking food are knives. These kitchen knives can make cooking a different experience altogether. All you need to do is select right ones as per your requirements. A number of purposes are served by the tools that you use in your kitchen. Most of these tools save your time while you are preparing food and other thing is the cooking activities get suitable as per your comfort. Mentioned below are some of the aspects that should be considered while choosing kitchen knives:
1. Features to look out for
While looking for a kitchen knife it is better to choose a knife that has sharp edges and sharp tip. A sharp knife always gives a better performance and makes the work easier for you. The material of which the knife is made also plays an important role, mainly one should choose between ceramics, carbon steel and stainless steel knives. One of the most important things you should check while choosing a kitchen knife is it handle. Always choose the knife which has an evenly weighed, slip resistant and with heavy handle, as that can make the knife properly balanced and easy to handle. Always choose a knife from a recognized brand and read the customer reviews so that you can have some ideas about what you are getting. A good Company will always offer you a warranty for the knife. If a company is not willing to do it should be certainly avoided.
2. Types of knives
(I). Paring knife – A multipurpose knife and must for every kitchen. It is mainly used for topping and tailing vegetables, preparing small fruits, removing skins from onions and other small jobs in the kitchen.
(II). Turning knife – These are used you have to make a unique style presentation. This type of knife is not very common. The blade of this knife is curved slightly in order to turn and give barrel shape to fruits and vegetables.
(III). Filleting knife – It is usually used for working on fishes. This type of knife has a narrow medium length flexible blade which runs smoothly along the bony structures of fishes.
(IV). Boning knife – It has a short to medium sized blade, with a pointed end. This type of knife should be strong and should not have any flexibility. It is designed to with an objective of getting near to the bones and cutting the meat away.
(V). General Chef's knife – This type of knife is considered the best in terms of utilization. It can be used for many different jobs like meat, poultry, fruits and vegetables. The techniques that can be used with this knife also varies and include slicing, shredding, chopping etc. most of the professional chefs throughout the world use this type of knife.
(VI). Palette knife – This knife is not used for chopping or any cutting purposes. It is blunt and flexible and is useful in tricky situations. It is used to lift food from pan to the plate and some other purposes like spreading. This type of knife I usually long and quiet flexible which makes it easy to get them underneath the food items.
3. Quick tips
A kitchen knife being the most important part of the kitchen should be clean and sharp, so that it is always ready to use when you need it. A kitchen knife should always be washed by hands after every use with liquid detergent. It should always be dried properly after every wash. Washing knife in a dishwasher should be avoided as the heat and steam can damage the handle and tossing around of knife in the dish washer can get notches on it.
There are numbers of knife sharpeners in the market available that can be used at homes for sharpening the kitchen knives. Electrical sharpeners are better to use as the can sharp more dull blades with ease. On the other hand manual sharpeners are less expensive. The other is to use a professional knife sharpener.
4. Storage
You need to understand that knives are not ordinary tools that one can leave open and in reach of minor. A proper storage for the knives is must in order to prevent any mishap. It should be stored in such a way that it remains out of the reach of the children. Also, a proper storage will make the knife last long. Nowadays, the best way for storing knives is the magnetic storage.