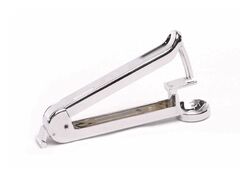 I always shot my nose up when my moma asked me to slice up cherries and olives for cakes. But not anymore with the Cherry and Olive Pitter by Leifheit.
This 7 inches long stainless steel pitter, locks the fruit easily and the thumb space on the tip of the pitter easily ejects the stone out of the body of the fruit. the closing lock does not allow the fruit to fall out. This piter is chrome plated for durability and easy dish-washing.
This very simple accessory will come very handy and it is only $12.99…I am going to buy it.