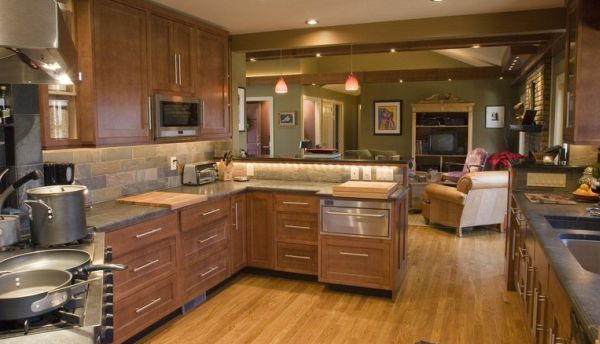 Kitchen base cabinets are an important part of any kitchen. They provide you with storage space to keep your crockery, spices, jars, bottles, utensils, small appliances and cookware, and anything that you feel can be kept inside. Designing, creating or building your own base cabinets requires a little research, study and analyzing how much space one would require looking at the kitchen stuffs. Kitchen cabinets can be made wood or laminate varieties, or in steel. You can color them according to your choice. One can also go for purchasing prefabricated kitchen cabinets.
These cabinets come in standard sizes to install in your kitchen. Customized cabinets can be also made to give your kitchen a distinct look and feel. Building your own ones can help you in saving money. Below are some ideas that will help you in building your own base cabinets for your kitchen stuffs:
1. Measure your kitchen
Measure your kitchen to create a drawing. This should include the cabinets you want to build. Look out for cabinet building plans online, in home improvement books or at home improvement stores.
2. Storage Space

Decide on the storage space. Find out that what all stuffs you would be keeping in your cabinets. If you are only storing cookwares then you wont require much space. But if you want to keep your spices, appliances (that you don't use daily), crockery, and other knick knacks, then you will have to consider keeping extra space. Start with taking measurements of all the common appliances, and other stuffs. This will help you to get an idea and also will allow you to create dimensions.
3. Single Cabinets or Multiple Cabinets
Creating your own base cabinets will give you full control over building and installation. Kitchen cabinets usually comes in sectioned pieces. These cabinets require individual installation. But with your designs, you can choose to build a single unit with various shelves and drawers. Multiple cabinets are good options when you have loads of items in your kitchen. If your kitchen is fully stocked, and you don't plan to add new appliances, single cabinet are better.
4. Choosing the Color and Material
Make a visit to your local cabinetry suppliers. Make it a point to visit at least three of them. Its a thumb rule to have at-least three quotation from vendors. Look out for the various wood, steel and other material that are used for making cabinets. Check out the price and keep a notepad handy. List down each and every information. If you want to add glass or glazing cabinets then look out for less expensive wood. Choose colors and finish(easy to clean ones) that will go well with your kitchen wall. Create a final draft of kitchen dimensions, cabinet measurements, decide, finalize and then go with placing your order. Give your measurements and finalize on the estimated price.
5. Installation and Painting

During installation, make sure you arrange your cabinets perfectly. Give proper attention when the work starts or else you can only complain later. Do some rearrangement to check whether you can create some more space. Go for creating some inserts for the doors. This will allow you to add color, and change it easily later. Include some borders on the cabinets, by using edging. This can add some flair without reducing the style. Stain or paint your cabinets according to product instructions.