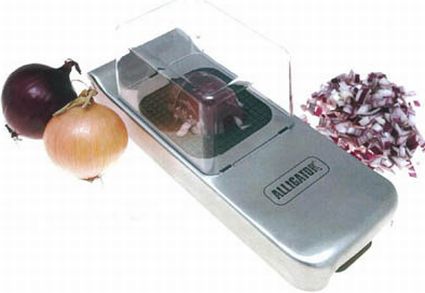 Stainless steel Alligator Dicer /choppers are perfect for office working kitchen geeks.
You can dice and chop onion, shred potatoes, dice carrots and vegetables along some celery, apples and cucumbers and it will also help you grind some of your spices and herbs for your delicious recipes.
Asians often like spicy food recipes so this will serve your purpose.
Use is very simple, two interchangeable cutting blades (6 and 9mm) and a base help you shred and cut your herbs and vegetables. A cleaning grid helps you to clean your cutting blades. This equipment is equipped with clear plastic collector and disassembles which is a plus point for cleaning.
This equipment is dish washable and is a product from Sweden.Now available online, so go and shop one for yourself.
Via: BridgeKitchenware