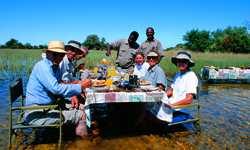 Guys, if you are planning to go for a picnic, but can't accommodate the refrigerator, don't panic coz we got some excellent ways for you to keep you favorite desserts eatable.
You can take along all the favorite desserts of your kid and hubby and don't forget to pack yours. Place them in a zipper back and zip it up properly: place it inside another zipper bag. Now the weather conditions, if you are in a snowy area just place in the snow or cold water; look for a place that is not that deep or your treat might just float away. We got another solution too. To keep it sake from disappearing, in a running stream, put it inside a poly bag with a heavy stone inside.
I ain't kidding. It is nature's natural gift. The next times you are going a picnic do try it out.
Read more: Backpacker