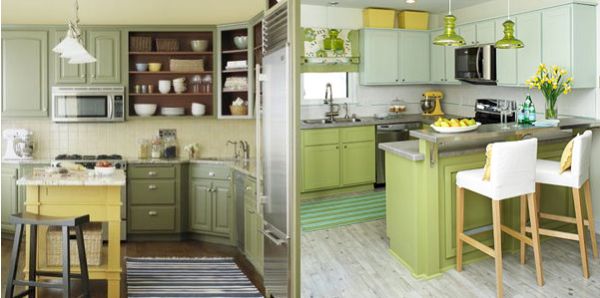 Kitchen is one of the most important places in our homes especially for the homemakers, so it's imperative that this section of the house is one that radiates positivity and health. While some people may avoid shelling out a substantial amount when it comes to a kitchen makeover as compared to their living room or the bedroom.
The following tips will make your kitchen attractive and budget friendly:
1. Give your kitchen a color theme
Colors can do wonders to a space. If you own a small kitchen space, use pastel shades with a tinge of pink, blue or green, whichever suits your mood best. For kitchens that are larger, painting just one wall with a highlighter does the trick. A bright highlight boosts energy and brings life to an otherwise dull looking kitchen.
2. Replace the cabinet doors with glass panels
Transparent or translucent glass panels provide a see through of the neatly arranged kitchen add more personality to the kitchen. Additionally you can change the wooden panel surfaces into the color theme as your walls. Simply painting them with a textured paint is an excellent way of budget makeover for your kitchen.
3. Replace the drawer knobs with something more classy
The shelf knobs can be utilized as embellishments to your shelf doors to highlight them. Choose from the multiple knob options available in all supermarkets. The designs vary from black metal to wooden or brass; select the best match that suits your budget to add a different angle to your previously uninviting kitchen space.
4. Keep plants in your kitchen
A small kitchen garden in one corner comprising of small flowering plants in reused mugs and broken bottles project reusability and recyclability from a whole new perspective that adds color and freshness to your kitchen. Maybe add a plain wall highlight as the backdrop to the plants to contrast their colors.
5. Add artworks or mirrors to give a spacious feel
Kitchens can be livened up extremely easily as most of us often forget to add art to them. Color, paintings, and simple embellishments can add so much character to the kitchen space. Add a mirror to your kitchen if it is small to give an illusion of space, if it's a larger area, utilize the walls to highlight a nice painting or vibrant images of fruits and vegetables defining the space.
6. Sport mood lighting in your kitchen
As previously mentioned, kitchens often aren't the high priority designer sections. Add yellow lighting to your kitchen to impart a warm and cosy feel to the space. A small economical lamp maybe next to the flowers or highlighting the painting will bring out the best elements of the kitchen to focus.
7. Replace a few top cabinet doors with open shelves
Open shelves project an illusion of space and when arranged neatly they help defining the meticulous organization of your kitchen in a positive way. Maintaining the open shelves neat and tidy only highlights the positivity in the space in a very economical way.