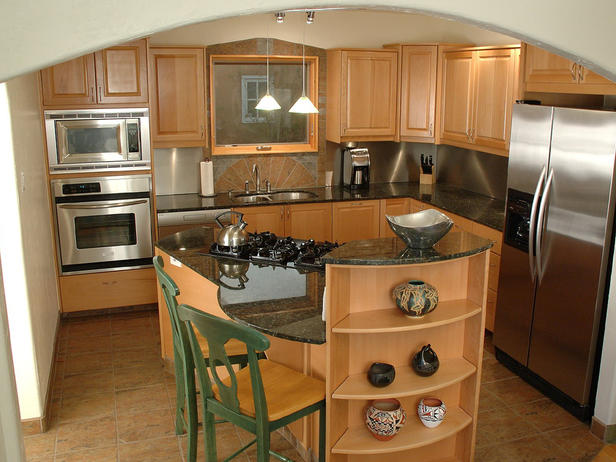 While many of us may not consider small kitchens a "boon" thanks to the restrictions in space and designing, we may want to reconsider this. Because small kitchens actually help to de-clutter the mess and help to focus on the essentials rather than the "fillers" and the "frills" that add to the mess in many cases.
So, small-kitchen-owners don't be disheartened! Read on to find out how you can pep up that little room to become the neighbor's envy!
1. Be proud of your kitchen
First things first, be proud of your kitchen no matter how small it is, because the heart of any house lies in its kitchen. Once you accept the ground reality that your kitchen cannot get any bigger, it will be easier for you to think with an open mind and be innovative. In fact, you will be able to churn out some fantastic ideas for your kitchen without much help, because finally nobody knows your kitchen the way you do!
2. Opt for wall and ceiling cabinets
The biggest challenge with small spaces is the storage and you need to put in a lot of thought into it. Wall cabinets are a great way to remove the clutter from the floor space and serves as a great storage for food items as well as the utensils and crockery. It's also easier to dump things quickly inside these cabinets in case your mother-in-law decides to make a quick surprise visit!
Another must-have for a small kitchen is a ceiling cabinet, and though it's difficult to reach for these, those exclusive kitchen accessories and big pots that you do not use everyday can go in there.
Tip: Do not go overboard with the wall cabinets since your kitchen will look cluttered and it will be too much to have for a small kitchen.
3. Cabinet sliders
Cabinet sliders have become very popular and can be found in every kitchen today – big or small. In case you haven't considered this option yet, then it's high time you do and there are a variety of options available here too. Cabinet sliders offer a neat and compact look to your kitchen and makes storage easier.
4. Attractive colors
It's very important for small kitchens to look "happy" and sport a fresh chirpy look. Using bright yet light colors for the walls is highly recommended and you can also accessorize the walls with small paintings or "little nothings".
You can also go for kitchen backsplash. There are some amazing designs available here, and what's even better is that you can work on the backsplash all by yourself at home, thus making this a money-saving deal too!
5. The biggest mantra for a small kitchen

The biggest mantra for designing a small kitchen is focusing on small and light. These two elements add a "fresh look" to the kitchen. This is perhaps the only mantra you need to follow.