Lighting for small kitchens should be such that the space looks and feels larger. There are several ways to do that, by using different light fixtures. Strategic placement of lights which follow the design theme of your home will be the best choice. Mix up a few designs and go for the eclectic look. Don't get blindsided by trends as trends will change every year. Install lights which you are sure you would like to see every day. Check out these kitchen lighting tips for small kitchen.
12 kitchen lighting tips for small kitchen
There are several ways for incorporating different kinds of lighting in your small kitchen.
The three major types of kitchen lighting – general, providing light for the kitchen, task lighting which lights up a work area, and accent lighting which creates a focal design lighting for the kitchen. All the types of lighting can be layered to create beautiful lighting within the space. Such as lighting over your cooktop and under cabinet lighting is an example of task lighting. Pendant lights can provide focal or accent lighting and recessed lighting can be the general lighting in your kitchen. 
Under Cabinet Lighting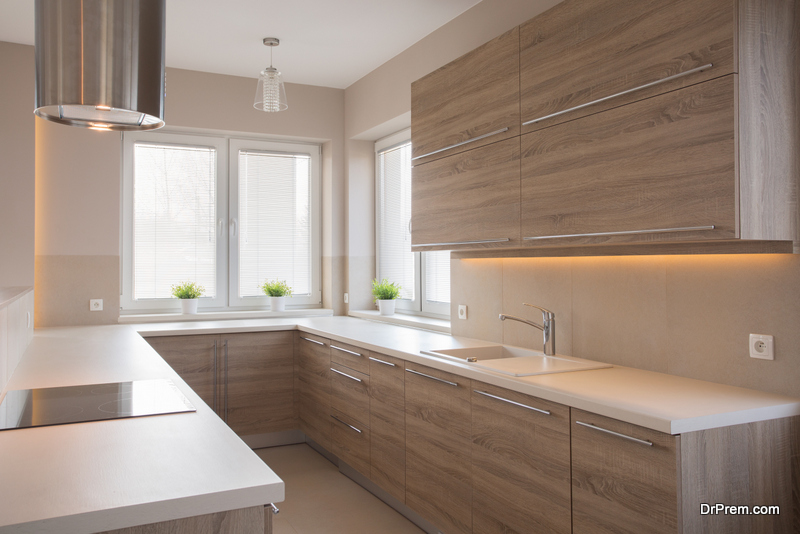 Fixing lights underneath the kitchen cabinets is one of the best ideas for lighting a tiny kitchen. They are great as mood changers and space savers. As they are installed under the cabinets, you save counter space. Installing dimmable lights are your best option as you will have bright lights when you need them for food prep and cooking, and you can dim the lights when you don't have any heavy work in the kitchen.
Semi-flushmount lights
If you do not have cabinets reaching up to the ceiling, you can make use of the space to mount close to the ceiling lights. These are the next best option to flushmounted lights. You can choose from a variety of styles ranging from industrial to retro to minimalistic. You will find semi-flushmounted lights for any décor you have in your home.
Pendant lights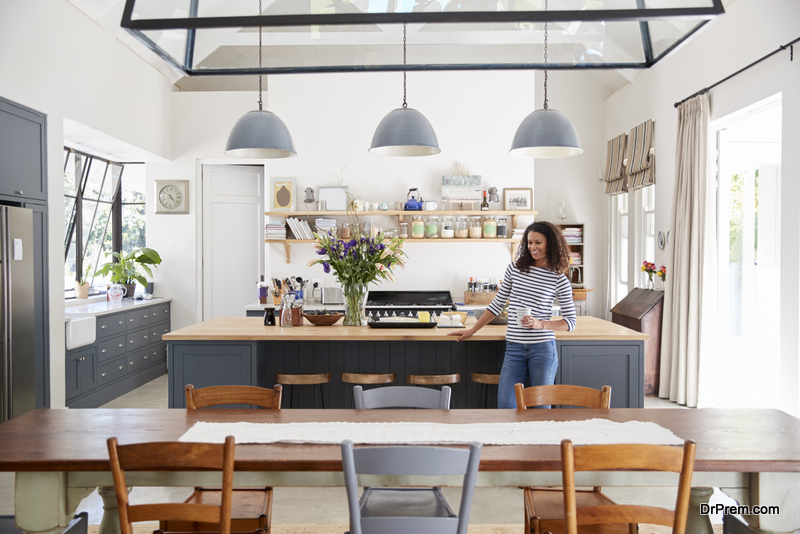 Pendant lights are stylish and elegant. They can transform your tiny kitchen into an elegant one, expressing your sense of design awareness to the world. You can make even more than one pendant light work for your kitchen. If you have no space at all, then you may install a small pendant over the sink.
Pendants which are hung low look really nice. The light can be dimmable which will help to change the ambience of the kitchen whenever you want to. This is one of the best lights for modular kitchen. And if you want to make a bold design statement, then a single fabulous, huge pendant light is the way to go.
Flushmounted fixtures
Low ceiling height is usually an issue while lighting up a small kitchen. You can get around this problem if you fix the lights on the ceiling. This will save space as the lights are mounted onto the ceiling and keep the kitchen open visually. Choose a light with a great design to have an eye-catching stylish design. This is one of the best type of lighting for small kitchen.
Chandeliers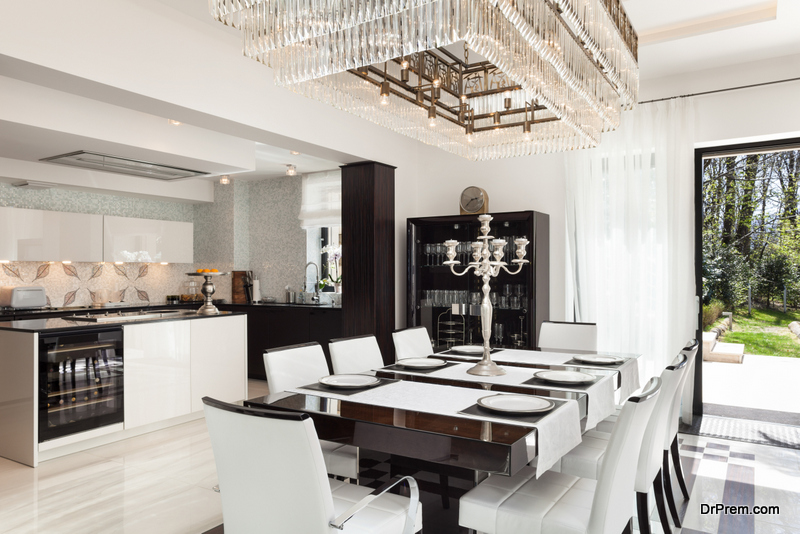 Chandeliers may not have popped into your mind as a possible choice for your small kitchen. You'd be surprised, but chandeliers can actually look great in a small kitchen. It just has to be something which is scaled to your space, is sleek and smart. A chandelier will be an eye-catching, stunning element in your kitchen.
Contrasting elements
Introduce drama into your kitchen. There can be a play of the black-white, which could be amazing. For example, installing an invisible light strip along the kitchen wall, and combined with multiple black fixtures over a wooden table is undeniably chic.
Recessed lighting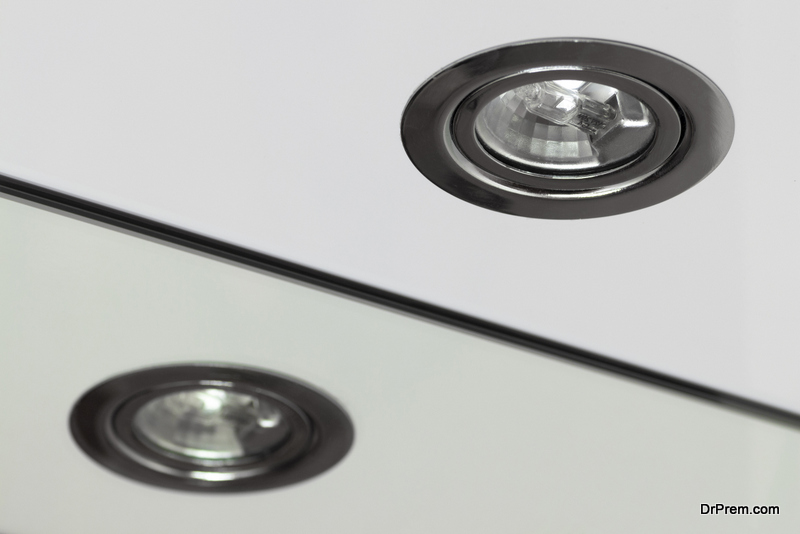 Recessed lighting has been around for decades. It is still a good choice for lighting up spaces, including small kitchen. If you are too confused with different lighting styles, you can select recessed lighting, as you can't go wrong with it. It is basically a downlight which is installed in a metal hollow in the ceiling.
The light can be either a narrow spotlight or broad floodlight. So when in doubt, just choose recessed lighting. Another advantage of this lighting is that it is a neutral style, so it fits into any kind of décor style. Even if you want to change the style of your interiors in future, you can do so without having to spend additionally on changing the lighting of the kitchen.
Industrial style lighting
This has slowly become one of the classic styles, as it has a retro-modern vibe. It can go well with both retro interior décor as well as the ultra-modern minimalist style. The lights for modular kitchen can be industrial style. Try out a modern design in threes to add a strong style statement to your kitchen. To reduce the effect of too bright light coming from three sources, use LED lights of less wattage, and the combined glow would be enough for your kitchen. 
Vintage lights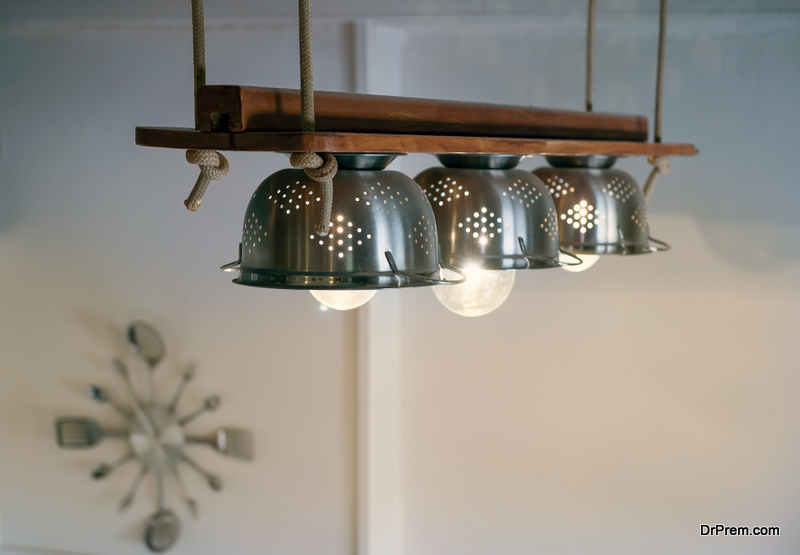 Handcrafted rustic chic lights are perfect for any modern kitchen. They add flavor and charm to the kitchen. Vintage lights come in all sorts of shapes, colors and sizes so choose the style you want. Stained glass vintage lights would be an unique choice for your kitchen.
Glowing backsplash
Use the backsplash in your kitchen as part of your lighting design. You can introduce an striking architectural element in your kitchen, such as one long shelf at a high distance from the countertop. It would create a mural kind of effect by lighting up the backsplash with some intelligent focused lights. The result is sophisticated and chic, proving that simple ideas can make your small kitchen come alive and look spacious too.
The lighted up backsplash is quite trendy now, and it could be the best type of lighting for your kitchen. The glowing, beautiful backsplash is now very popular as it has turned out to be a way to make a small kitchen stand out. This idea can be applied to other spaces in the kitchen which you want to highlight.
Mixed lights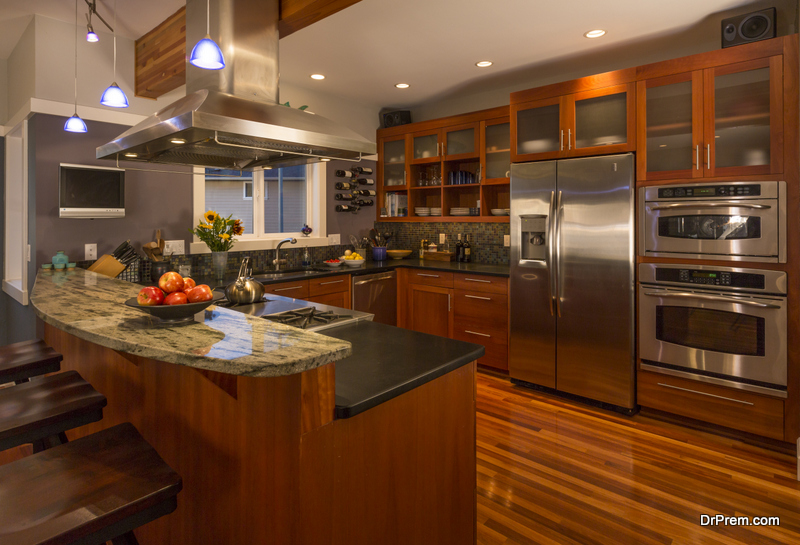 Even though you may have a small kitchen, you can still play with some designs. Keeping the basic design style same, you can select light fixtures of different sizes and heights. This would create flexibility in your design scheme and keep it interesting and fun. Lighting a tiny kitchen is tricky, as you have to go with the lights which don't end up making your space feel small. Mixed lighting in a restrained manner can help to make your kitchen look bigger.
Basket textures
Take a look at the trends for kitchen lighting both online and offline. Enjoy the process of selecting lights and visit the showrooms near you to check out the lighting trends. You may find basket textures in vogue again. It seems to be the latest among revived trends of yore. Maybe the popularity is due to the fact that it is very easy to achieve this look.
You don't need a big kitchen to create stylish lighting. With careful thought and planning, you can have stunning designer lighting for your kitchen. With LED lights, you can keep the energy bills low for lighting up the kitchen in various ways.