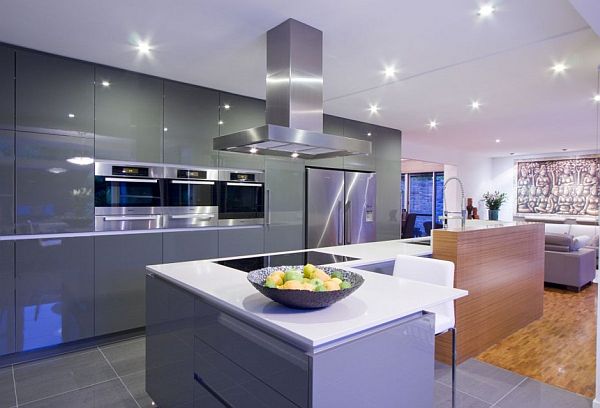 The current kitchen recipe includes a mix of utility and style both weighed in equal quantities with a dash of creativity. Kitchens are turning into the hub spot for families who love to dine well and also for those who are into entertainment and socializing. Hence kitchens have turned into fully functional serving spaces that are entertaining, stylish, smart and well organized for maximum storage. By making an investment towards improvements one can ensure that the time is well spent into fetching great prices for your property. Therefore incorporating these ten ideas for a unique kitchen will definitely make things all the more divine and unique.
1. Reface

Cabinet refacing is not that hard as most people might think. At particular occasions refacing can also be done under a DIY attempt if you have the interest and patience to undertake this task. Refacing is a hot trend and can be achieved by stripping off the old stuff and applying a fresh coat of sheen, paint or wood effect. A new coat of lacquer can also be great for that vintage look.
2. Paper and glass
To make things more of dramatic, you can add a punch to the tired cabinet patterns by taking down the doors and lining the wall with some fantastic wall paper prints that display glassware or others elegant utensils. You can finish the look by adding a new glass door to the entire setup. This can be an inexpensive and quick way of freshening up the cabinets and adding a personal touch to them.
3. Chalk it up

Use that open kitchen wall for a slice of creativity. Apply chalkboard/paint to recreate the wall space for fun elements. The kitchen space should be designed for the entire family. You can add the grocery lists, kids meal programs, doctors appointments and a lot many more elements to personalize the space. One can go creative since the options are actually infinite.
4. Get smart at art
Appliances designed out of stainless steel are actually great. But there is one big trouble with stainless steel and that is that no magnet sticks up to stainless steel and hence you find no place to hang the art work of your kids or other decorative pieces that can be hung around. The best way to deal with this situation is by applying some magnetic primer to the wall space standing next to the fridge. To cover it up you can add a dash of paint to these walls so that some great pictures can be hung around.
5. Get showy at it
Open shelving can be used to create interest in a space. One can even opt for floating shelves in a kitchen space for additional storage area. This way you can place your personal accessories or treasured objects on display.
6. Benching it up
One of the biggest trends making rounds in the present time is the incorporation of a bench seating style within the eating zone of your kitchen. This addition is simple and can be done all by self too. One just has to use the upper kitchen cabinets and place them on the floor in a row. Then you can pick some trendy fabrics and comfortable seat cushions to add on top. With this you can create the perfect bench seat for your friends and can also increase the storage capacity by incorporating these cabinets placed on the floor-level.
7. Hardware changes
Cabinet hardware updates are the easiest possible way to change your kitchen space. Add a bit of sparkle by considering glass or crystal hardware. If you are into traditional stuff then pick brass pieces with that brushed finish for exquisite appeal.
8. The special touch
If latest is what you want as for technology and are willing to shell out those extra bucks then get the touch faucet used for regulating the flow of water in your kitchen. Touch faucets go on and off with just a simple touch on the spout of the faucet.

9. Add light to that spot
The traditional fixtures in your kitchen space are just an old idea. The kitchens today are fixed with beautiful pendants and chandeliers to add a special touch to that lighting factor of your kitchen.
10. Splash it up
Add a backsplash in your kitchen space for that classy factor. From a glass tile in mosaic patterns to a beautiful stone in the herringbone design, adding a new backsplash is all about mixing colors, patterns, texture and a lot of creativity the old-worn out space.