Since Christmas is around the corner, do you want to gift something special to your mom or to someone who loves cooking? This time, surprise them with something very unique as well as useful, like small kitchen gadgets. These smart gadgets will not only simplify their work in the kitchen, but also make it more enjoyable. Read this article to know about ten cool gadgets that are just perfect for any kitchen. These gadgets come with all kinds of price tags, so choose carefully the one in which you want to invest. As all these gadgets maintain the highest quality standards, they are very durable and will help you in the kitchen all through your life.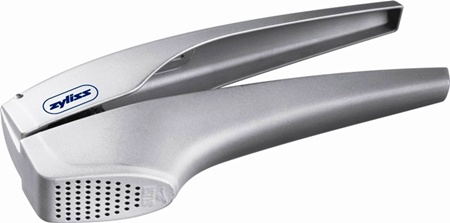 1. Zyliss garlic press
Peeling and crushing the garlic will no more remain a burden for you. This simple garlic press will do everything for you. Simply put the garlic cloves in it without even peeling them and your work will be done within seconds. The gadget comes with a separate cleaning tool, but you can clean it easily even without this tool. The press is very durable and will remain intact for years.
2. Silpat baking mat
If you love baking, this silicone mat will be very useful for you. Keep it below your baking sheets and enjoy an easy non-stick baking. Once you get this baking mat, you no longer need a parchment paper for your cooking. The mat can even be used to roll out doughs, so this is an added advantage.
3. Pyrex measuring spoon set

This set will make your measuring of food simple forever. Very durable and dishwasher safe, these plastic spoons can easily nest inside one another to take a very small space of your kitchen. Moreover, as the handles have been magnetized, they remain stuck to each other and you will never have to search for them.
4. Microplane grater zester

These can simplify your work of grating anything. This sharp tool can grate butter, chocolates, cheese, citrus fruits, nutmeg and much more. It is available in many varieties like box, micro and macro, stick-shaped and a nutmeg grater. Nutmeg grater even has a space provided to store the nutmegs. This gadget is dishwasher safe and is really useful.
5. Adjust-a-cup measuring cup

This is a push-up cup that has been especially made to measure liquid ingredients. It even helps you to accurately measure all kinds of sticky liquids. With this cup, measuring fluids will no longer remain a problem for you.
6. Pot clips

This is a very small, yet useful tool. You can easily fix these clips to the side of your pots. With pot clips, your spoons or other utensils will no longer slip. The interior of these clips are provided with pads, so that they do not cause any damage to your pots.
7. Kitchen thermometers

There are many types of thermometers available in the market. You need to choose the gadget depending upon your usage. Some useful options are large easy-to-read dials, dual probes, shatter-proof clear lenses and calibration, remote beeper and timer.
8. Butter bell

You are sure to love this gadget. Butter is a common food in almost all the houses. Butter bell enables you to store your butter outside the fridge. You need to fill this bell with cold water which protects the butter and prevents it from getting spoiled. The best thing is that the butter will remain soft and you can spread it immediately.
9. Garlic peeler tube

This tube peels garlic in seconds. Just put the cloves inside the tube and roll it on the kitchen counter. All the skin of the garlic will crack. Now you just have to separate the skin and the cloves.
10. Heat-resistant silicone spatula
The rubber spatulas that were used earlier used to melt at high temperatures. These silicone spatulas can resist temperature up to 600 degrees Fahrenheit. You can therefore even use them in your frying pans.