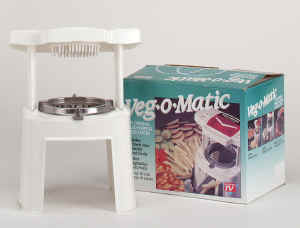 Earlier I used to hate the idea of peeling and chopping garlic and onions, but now with Veg O Matic, it has become the most hassle-free task and infact I love to do it now. Veg O Matic not only chops onions and garlic in seconds it also chops and slices an array of vegetables and fruits in no time.
It has 8 different blades, which performs 8 different slicing, chopping, dicing and other related functions. It is dishwasher safe and a wide base gives you a control over the processor while you go with your choppings. The best pasrt is it protects your fingers and knuckles. The recent price offer is $20 and it is available ASSEENONTV.
So place your order right now and make choppings an interesting cooking activity with Veg O Matic.