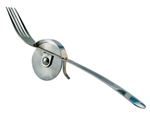 You might be having time slicing through a stubborn pizza at times. But don't you worry Clever Gear presents you the unique Pizza Fork.
Its features are as follows:
1. Stainles steel Body
2. Pizza cutter at the base of the fork, so that you can cut pizza and have it at the same time.
3. It can be used to cut pancakes, cakes, toast and tostadas.
The best part is it is so functional and it is only $15 and at $15 you get 2 sets of Pizza Fork.