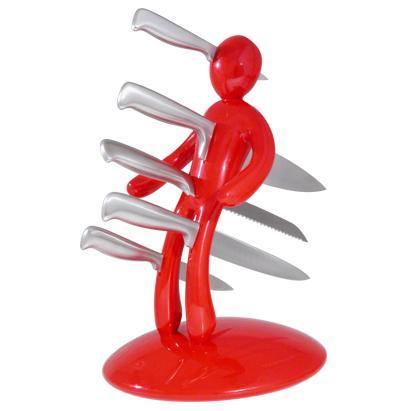 This is something, that every booze lover should have at their kitchen…the Vending machine with a capacity of storing 10 cans, and is operational through fake coins. Brought to you exclusively by Fosfor gadgets.
Kotoba Books brings you a sleek tool that helps you do all the chores at once. Can you imagine that? It slices,shreds, grates, and chops vegetables, fruits, cheese, and many more.
Fast and fantastic, sexy and sleek, handy and hot,that is all that can be said bout' this automatic dessert maker presented by cuisinart. You are surely gonna go nuts about it.
Raffaele Iannello presents this awesome Voodoo display with 5 kitchen knives. A thing that all great chefs should have.
Luxist presents, Metrokan Citrus Power,'the world's most powerful mechanical juicer."