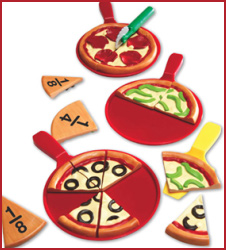 I have seen a number of educational toys, but it was the first time that I came across a toy that could teach fractions, since that was one area I found the most difficult.
If you also want to teach sharing and dividing in a fun way to your kid, get home this cute Smart Snack Piece-A-Pizza Fractions. Making learning a part of day to day fun activities is the best way to incorporate learning in your child's lifestyle. This Pizza set comes with 3 pizzas made in durable plastics, each divided into halves, fourths and eights.
To add into the fun element, the toy comes in a variety of pepperoni, olives and pepper toppings complete with spatula, pans, cutters and a storage box.
Price: $ 15.89
Via: Arktoys