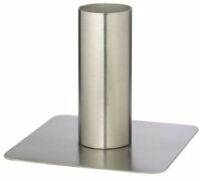 Beer Can Chicken can give you optimum satisfaction only when your chicken is moist. Cameron cookware presents you the above canister where you can pour your favorite marinade and push in small turkey or chicken and pop it in your microwave.
The best part is that this canister is made of stainless steel to retain heat and uniformly spread heat. This canister is drenches the poultry with moisture as the excess fats drip down the pan. The canister imparts the poultry a moist interior and crispy exterior.
This canister is available at the online retail store of Amazon for $13 only.