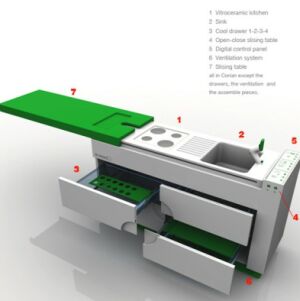 The above picture is the perfect example of space economy in a small kitchen. Bussel presents the Slice Kitchen system with four kitchen services rolled into one, featuring a sink, kitchen drawer, slicing table, digital control panel and ventilation system.
The drawers will serve for storage of utensils, crockeries and also spices. This functional slicing table will fit easily besides your kitchen range and make your kitchen look less messy with lots of cupboards, kitchen racks and slicing boards.

Read More about the utilities of this unique Kitchen Cabinet.