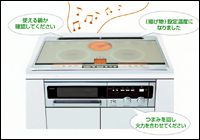 Japan's Sanyo Electronic is going to launch an absolute Kitchen Wonder, which is also an ultimate technological innovation ever provided to cooking solutions. It is a stove with Voice Navigation. This stove has a 200V Built-In IH Cooking Heater that gives you musical signals at the completion of various cooking tasks.
The downloading is very simple as the music can be downloaded from the internet into the mobile phones and then sent to the cooking area with the help of infrared signals.
This facility is best for working ladies or busy housewives, who cannot monitor every cookingt task in the kitchen.
Via: Popgadget