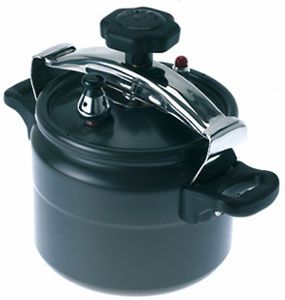 The above equipment is not an electric pressure cooker but it is a pressure cooker with hard anodized surface apt for outdoor use. You can cook carefree outside, and in half the time you take to to cook veggies, meats and rice at home.
The hard anodized surface is treated to be scratch free and the aluminum encapsulation allows uniform heat transfer. Therefore, you can peacefully stew, soup-up, braise or boil upto 3 quarts of food stuffs in it. the best part is that the lock of the pressure cooker not only seals in flavors but also the nutrients of the food.
This GSI Outdoors Hard Anodized Pressure Cooker is available in the online retail store of Pans for $53 only.