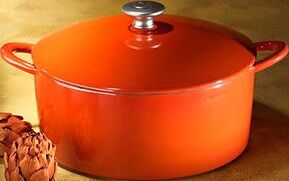 Mario Batali has designed the most essential cookware, serves your purpose during functions, where large amount of food needs to be prepared. The Italian Essentials Pot is porcelain finished in the interior as well as exterior, which makes it non-sticky and easy for dishwashing.
This pot has a capacity of 6 quarts and this just assures you that it is made for your main course and the designed to cook your dish in lesser time.
This dish is available in Golda's kitchen for $195 and it serves well for your barbecue purposes, pasta, seafood, vegetables and for a variety of sauces.