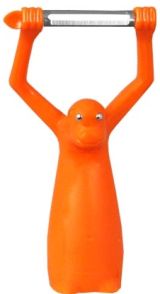 Wanna add some fun and excitement in salad making together with involving kids in the task? Get home this humorous monkey peeler and see the fun unfolding.
The body of the monkey doubles up as a firm grip while his hands hold the blade and there you are all set to get into action.
It becomes very important to involve kids in household tasks. but getting them into kitchen can indeed be a pain, for they have so many other rather intersting things to do. But if your kitchen has tools as funny and exiting like this monkey peeler, you can't keep your kids away from the cooking area for a very long time.
Price: $ 8.95