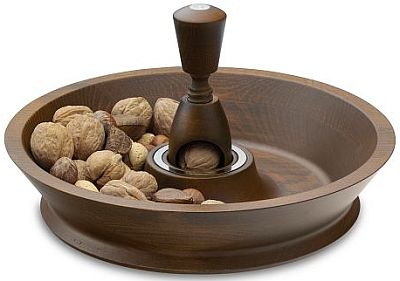 Nuts are all time favorite in winters and you know that during my childhood I always got scolding when I had them. Actually, I applied a weird mind to break them by putting the nut in between the door and that always peeled off the paint. Because of this naughty nut breaking process, I was always deprived of the pleasure to break them.
Today, I would like to present this 'Nut Bowl & Cracker' to my mother and ask her to give me all nuts to break.
If you ant to buy it for your home this winters then I would say it's not a bad choice, which is just for $75.00. The bowl comes with its own screw-operated nutcracker, which is conveniently stored in the center hole. It is made of beech with a rich walnut finish.