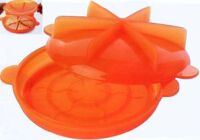 Now you can have healthy quesedillas with this Quesadilla Maker manufactured by Progressive International. You don't have to deep fry quesedillas, just place them inside this maker and put it inside microwave.
The functionality of this Quesedilla Maker allows you to cut the quesedilla into six clean slices, by pressing upon it the edged out lid of the quesedilla maker. The extended feature also allows you to warm-up ten tortillas together in the microwave.
This Quesedilla Maker is available at the online retail store of Goldas Kitchen for $22 only.