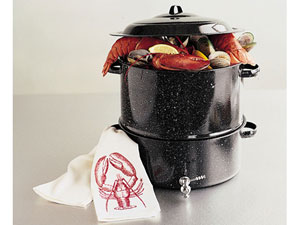 Granite Ware presents the most unique piece of convenience in the all-new Lobster Steamer, which features two pots with the top one to accomodate lobsters and the bottom one for water.
You can steam the lobster to the right texture and filter out the water from the bottom part and use it in stocks, soups, sauces and stews. The best part is you can use this steamer for boiling crabs and hard-boiling eggs.
This extremely useful Lobster Steamer is available at the online retail store of Cooking for $50.