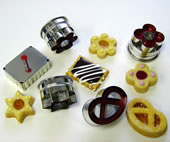 Kaiser Bakeware presents Linzer Cookie Cutter Set to provide you with a full assortment of pretzel, rectangle, star, clover, and flower. You can use these to make dozens of cookies in the cookie season or teach your kids to wander at their own creations using these cookie cutters.
The best part is that these cookie cutters allow you to make jam-filled cookies with ease.
You can place your order at Kaiser Bakeware and get the set of five designs at $25 along with a recipe booklet free.