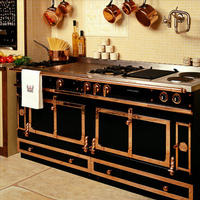 Le Grand Palais 180 is grand indeed with two large ovens, one gas and one electric. The customization in the duel fuel range can allow you to choose from a variety of configurations. the best part is that you have the freedom to convert the ovens to electric or gas as per as your convenience.
So if you have a huge kitchen then you can utilize the space with this highly functional kitchen range. The double oven convenience can help you out on functions, parties or if you have to cook large amount of foods. The best part is that this kitchen range reduces the amount of scrubbing involved as it is self cleaning.
Priced at $36,000 this Kitchen Range is available at the online retail store of Joanne Hudson Basics. Man you need to be a good chef to make good use of it!