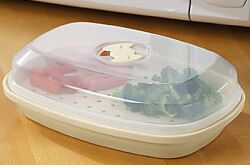 The above vessel might appear quite insignificant to you. But do not go in by the looks. This vessel can defrost, steam, strain, store and even serve hot and cold foods.
You just have to remove the strainer and add ice to the base to serve frozen foods. This dish is both microwave, freezer and dishwasher safe.
But what is required of you is to order this product at Miles Kimball before you can enjoy veggies in a healthy way in this vessel. The price of this Hot/Cold Food Keeper Steamer is $13 only.