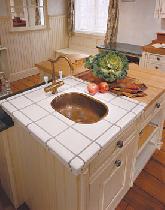 Trendy designs are always hot in the market. This multi-layered design is the recent craze. Separate blocks for different activities are very convenient for a smooth conduct. This design houses three parts, the tiles section, the butcher section and the granite part. All the things are carried out on all the surfaces.
The tile section is used for the water purpose and is also easy to maintain. Whereas the butcher block provides lot of space for cooking activities and chopping vegetables. There is also a tray beneath this part which takes care of the waste veggies.
And here is the granite section used mainly for sitting purpose. It is the surface where kid's activities can be carried out.
Read more: Kitchen