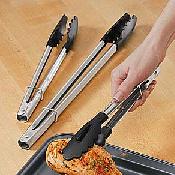 Your kitchen is full of handy gadgets. But don't you think that a tong is missing. Get this tongs featuring nylon heads. They are made of stainless steel that keeps the non-stick cookware free from any scratch marks.
Available in three different sizes, the nylon head tongs are greatly useful for flipping and flopping any food item on the frying pan.
Priced at $4.99 – $5.99 it is a take way product for your kitchen.
Via: mileskimball