There are plenty of reasons you'd want your kitchen to look bigger than it is. Most likely, you're unhappy with your kitchen's small size and want to open it up a bit. Other times, you might be putting your home on the market and want to show potential buyers its potential, or are listing your home on Airbnb and want to photograph it in its best light. Whatever the case, there are a variety of techniques that help you make your kitchen appear bigger. Here are five ways you can achieve this:
Knock Down a Wall
When it comes to creating additional space, nothing quite does it like knocking down a wall. Many homeowners don't realize how cost-efficient it can be to knock down walls. In a single family, one story home, knocking down a non-load bearing wall can cost as little $300. And for professionals, it's fairly easy and fast to get this done.
While knocking down walls won't increase the actual amount of square footage in your kitchen, open plans make a space feel much bigger. Open floor plans are also very popular in today's real estate market, and can increase the value perception of a home, too. If you have an island in your kitchen, it can serve as a dividing line between the kitchen and its surrounding rooms. If you don't have an island, a rolling island can also divide two spaces. Another idea is to paint the walls in the kitchen different than the walls of the neighboring area.
Paint It White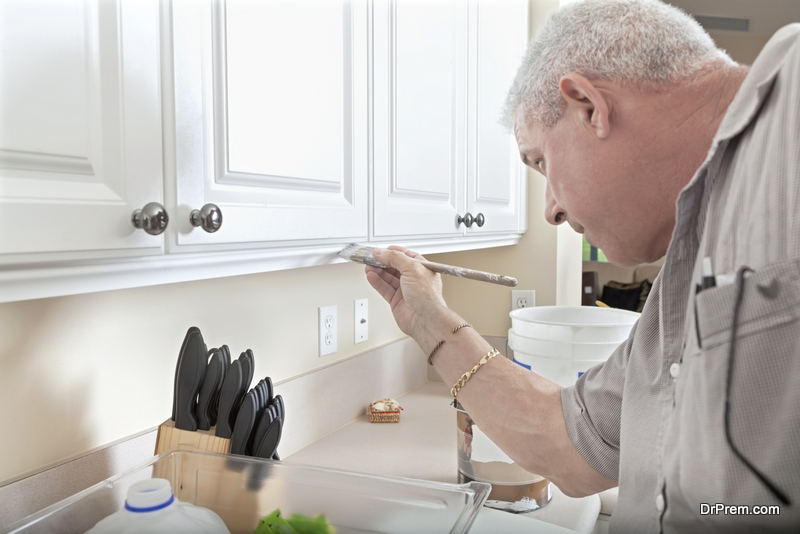 In the interior design world, white is a tried-and-true trick for making spaces feel bigger. This is because white reflects light, which enhances the balance and space of any area. Instead of painting your cabinets and walls the same color white, you try different shades of white—and don't forget to add pops of color in other areas of the kitchen.
Get Rid of the Clutter
Eliminating clutter is one of the easiest and cheapest ways to help enhance space in your kitchen. When you declutter, your kitchen will feel much more open, airy, and clean. Sometimes decluttering involves getting rid of the some of the excess decor that you might have as well. Get rid of clutter by trashing some of the things you don't use much, and putting bulky countertop appliances away. You can install a pegboard to hang items like coffee mugs, which frees up some of your cabinet space. Additionally, try organizing spots throughout your kitchen.
"An organized kitchen can change the entire aesthetic of the space," says Bouclair's Peter Goldberg, CEO of a large Canadian home goods retailer. "If you're a coffee drinker that dedicates a chunk of counter space to everything you need to make coffee, why not create a coffee corner in your kitchen? All you'll need is a small table and pegboard or wall shelf for mugs. It's important to think outside of the box to properly leverage the space you have."
Take Advantage of Panel Ready Appliances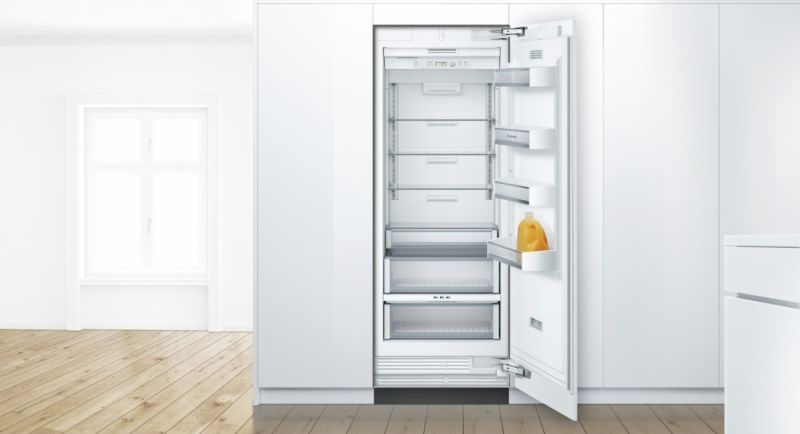 Panel ready appliances cost a little more, but are well worth it if you want to enhance kitchen appeal. Panel ready appliances are designed to blend in seamlessly with the surrounding area, creating a harmonious kitchen and lending the impression of a bigger space. These appliances also give you plenty of creative freedom to design a space however you'd like: with a panel ready refrigerator, for example, your fridge would look just the rest of the cabinetry in the space.
Install Glass into Cabinet Doors
To accentuate your kitchen space, use glass for your cabinet doors. When glass is incorporated into cabinetry, the eyes naturally tend to pay attention to the depths of the cabinets, which creates additional space perception. Instead of noticing the cabinet frames, glass doors make the walls feel further than they actually are. With glass cabinets, however, you'll have to be more careful about interior contents: if you have messy cabinets, guests will be able to see it, and clutter creates the illusion of smaller spaces.
There are a variety of different types of glass you can use, and each adds its own layer of uniqueness and style. Fully transparent glass is popular, especially if you're happy with your cabinet's organization. Frosted glass is sleek and perfect for kitchens with a modern theme. Textured glass has great visual appeal and doesn't show fingerprint stains as easily aso some of the other types.
Article Submitted By Community Writer