The pleasure you get when you eat ice-cream from a cone can never be the same when you eat it from a cup. Most of us stock up our fridge with ice-cream in summer and fret about serving it in cones when kids ask for it, for the fear of the clean up job we have to do later.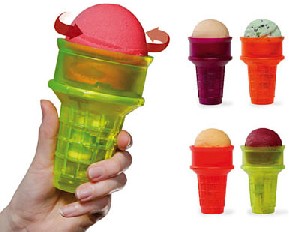 This motorized ice cream cone from perpetualkid is just what you need. You don't have to worry about your kids dripping ice-cream and messing up their clothes. All you have to do is fill this up with ice cream and push a button. Enjoy the ice-cream while it turns without worrying about having to lick the dripping sides of the cone and messing your clothes.Of course, you can give them to adult-kids too!
This dishwasher safe gadget requires two double AA batteries, comes in a variety of colours and costs just $8.99.
Via: Perpetualkid