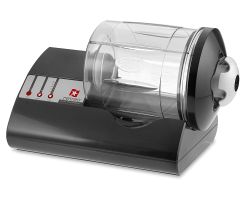 The above Electric Vacuum Marinator looks like a wine barrel and works like one. This marinator is built on vacuum technology of slow cooked foods, where the vacuum, discharged at the press of the button on the panel, opens the fibers of the marinated food stuff and allows wonderful infusion of flavors.
The food barrel rotates slowly during the process of marination, thereby coating the foods evenly in the marinated mixture. You can marinade 5 pounds of food easily in this barrel, along with dry and wet rubs.
Now, marination becomes economical, effective and time-saving with this unique Electric Vacuum Marinator. Now your meats will cook faster than ever. In order to purchase this product place your order at Williams-Sonoma for $200 only.