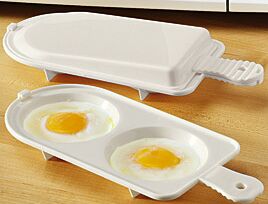 If poaching eggs and toasting bread bothers you the most during the breakfast time then the solution is at Miles Kimball. You can let your toaster do with the toasting and rest at peace with the Microwave Egg Poacher do the rest.
These Egg Poachers are made of plastic and it makes poaching a non-sticky affair. You just have to pour a bit of oil and water to the egg wells in the poacher and break the eggs into it. Before placing it in the microwave, just pierce the egg yolks and cover it up with the locking lid. The locking lid helps you to flip the eggs with ease.
This set of two poachers with two egg wells each is available at the online retail store of Miles Kimball for $9 only.