Founded in 1965, Dacor offers a complete line of luxury consumer appliances for the kitchen. The new, more powerful ventilation systems by Dacor combine high-end styling and world-class performance to quietly and efficiently improve indoor air quality of the kitchen by removing steam, grease, and cooking odors. These systems are equipped with halogen lights to give you a better cooking environment.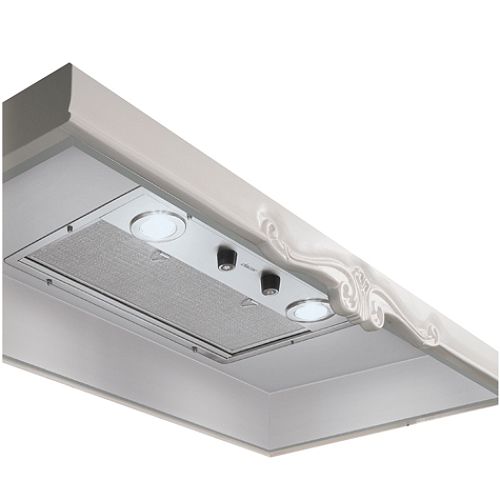 According to Elaine Chaney, senior Vice President of marketing and sales of Dacor,
Dacor ventilation systems come in an assortment of styles and sizes and integrate into almost any kitchen environment. By mastering the art of combining exquisite design and industry leading technology, our ventilation systems make bold statements and offer unsurpassed performance as they quickly remove unwanted airborne particles from the kitchen.
The new wall-mount and island models like the Dacor Epicure® Dual-Fuel and Millennia Ranges are ideal for consumers who are drawn to cooking appliances with a higher heat output.
Millennia Chimney Hood
With its elegant lines, gentle curves and sophisticated touchpad controls, the stainless steel wall mounted Millennia Chimney Hood is the perfect accent to any Dacor range or cooktop. Available in 30″, 36″, 42", and 48″ widths, the ultra-quiet ventilation system features easy-to-clean dishwasher-safe mesh filters and up to four halogen lights that spotlight the cooking area.
Millennia Island Hood
The subtle silhouette of the Dacor Millennia Island Hood makes the unit a welcome focal point for any kitchen. Available in 36″, 42″, 48″, 54", and 60″ widths, the stainless steel ventilation system is designed for flexible installation over a center island range or cooktop. The unit features dishwasher-safe baffle filters with up to six radiant halogen lights that illuminate the surface area below, creating the perfect cooking atmosphere.
Preference Ventilation System
Available in 30″ and 36″ widths, the preference wall-mounted chimney ventilation system is silent yet powerful in a sleek contemporary stainless steel/colored glass combination that is truly a work of art. Featuring brilliant built-in halogen lighting and easy-to-clean mesh filters, the ventilation hood is available in six glass color options that coordinate perfectly with the Preference Wall Oven collection. Colors include slate green, blue water, titanium silver, sterling gray, anthracite gray, and black.